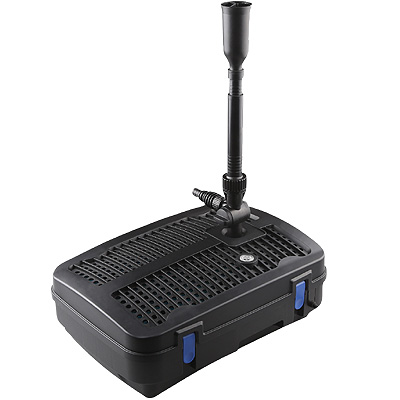 TripleAction Evolve 9000
Find a stockist
Super value All-in-One Pump with 2500lph flow
Description
The TripleAction 9000 from PondXpert is a perfect solution for ponds up to 9000 litres.
The pump has a powerful flow of 2500lph and boasts an 13w UVC to combat green water problems.
This pump has an extensive filtration area to help suck up any dirt and debris from your pond.
Features
Integrated 13w UVC.

Adjustable flow control via T-piece (12-25mm).

Suitable for ponds up to 9000 litres.

Easy access filter bed.

Mixed filter media: large foam filter plus 2 x zeolite and 1 x neutral biomedia chambers.

Dimensions 380 x 268 x 136mm.

10m power cable.
More Details
Hosetail: 12,20,25mm
UV Size: 11
Watts: 45
Max Flow Rate (lph): 2000
Power Cable Length (m): 10
Max Head Height (m): 2
Weekly Promotion: 0
Test: 0
WEB: 0
Web and Others: "Web Items"