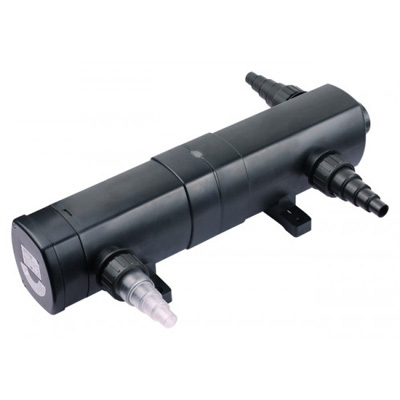 GreenStop Pro UVC 55w
Find a stockist
NEW - Professional UVC at a low price
Description
NEW - This is an incredibly innovative Ultraviolet Clarifier which will clear ponds of green water up to 40,000 litres.
Optimum sterilisation occurs with a flow rate of 5000LPH and there is a flow adjuster on the unit to control the flow.
Features
Internal helix forces water into optimum connection with quartz sleeve, maximising UVC ray exposure.

UV indicator to show light is working.

Three inlet / outlets - useful if you want to run the output to feed two separate devices.

Separate glass viewport which can be used to replace one of the hosetails for use as a traditional single inlet/outlet unit.

This model comes with an advanced thermal protection feature, which automatically shuts the unit down if in danger of overheating.

Once the unit has cooled down to normal temperature it will restart and continue to operate.

Length 672mm.

2 year guarantee.
Downloads
Max Pond Size - 40000 litres
Max Flow - 5000 lph
UV Wattage - 55 w
Inlet Size - 20-40 mm