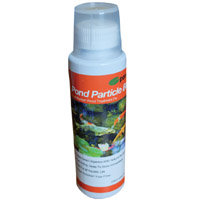 PondXpert Pond Particle Blaster 236ml
Find a stockist
PondXpert Pond Particle Blaster 236ml
Description
Natural water clarifier that utilises bacteria to digest dead organics to help keep the pond balanced and the water crystal clear.
Particularly suitable for clearing dead algae following an application of blanketweed treatment.
Specifically designed to start working the moment it hits the water.
Features
Treats up to 11,170 litres.

Clears dead organics with natural bacteria.

Fast acting.

Safe for all aquatic life.

Helps kickstart your filter.