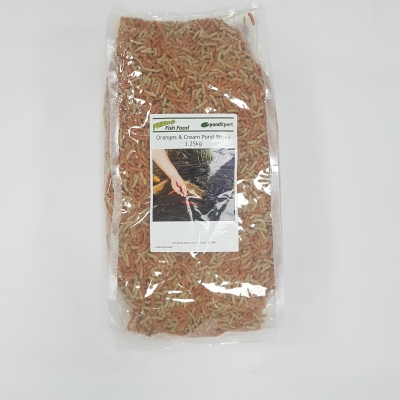 Oranges & Cream Pond Sticks Pond Food 1.25kg
Find a stockist
Super Mixed Pond Sticks that float longer
Description
Classic recipe fish food - much requested by our customers.
Oranges & Cream is a reference to the colour of this popular food.
Great for all pond fish - contains 27% protein.
Features
Low density pond sticks which float for longer and are easier to crumble in the hand for smaller fish.

Contains spirulina for added health benefits.

27% protein 3% Oil 2.5% Fibre 5% Ash Vitamin A 10,000 iu/kg Vitamin D3 1,500 iu/Kg Vitamin E 80iu/ kg (as alpha tocopherol) Copper 12mg/kg (as copper sulphate)

Soya, white rice, maize, fishmeal, salmon oil, spirulina, minerals, vitamins.