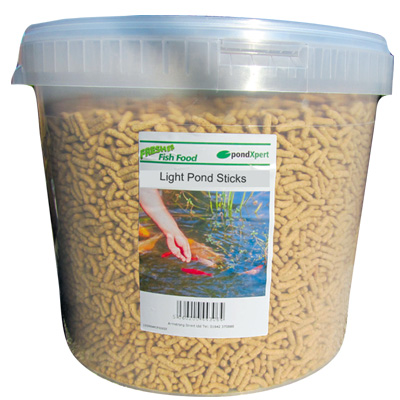 Light Pond Sticks Pond Food 1.5kg Tub
Find a stockist
Floating lightweight pond food - stays on surface longer!
Description
The low density makes them easier to 'crumble' in the hand - great news if you need smaller pieces for small fish.
It contains 21% protein, vitamins and spiralina to promote strong growth and healthy colourful fish.
Suitable for all fish types.
Features
Super size in a re-sealable tub for easy storage.

Longer floating time means less waste.

Easier to breakdown in the hand to smaller pieces if necessary.

Pond water remains healthier due to less discarded sinking food.

Feeding fish come up to the surface for longer.

Nutritional analysis: Protein 21%, Oil 3%, Fibre 2.8%, Ash 5%

Ingredients: White Rice, soya, maize, maize gluten, wheat germ, fish meal, salmon oil, minerals & vitamins, spirulina.