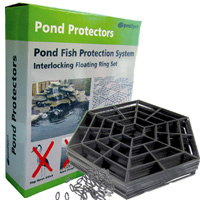 Floating Pond Protectors 20 Set
Find a stockist
Floating Pond Protectors 20 Set
Description
New idea that works really well.
Interlocking floating grids form a barrier which prevents herons and cats from entering your pond.
Features
Pack of 20 interlocking rings.

Each ring 30x27cm.

Fits any pond.

Black colour.

Minimal disturbance to the pond - used only on the edge the middle remains open.