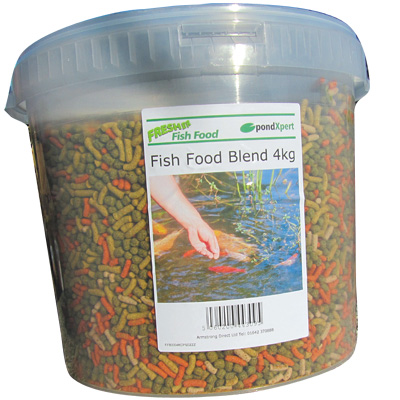 Fish Food Blend 4kg Tub
Find a stockist
Our Bestselling Pond FoodComplete blend of pond pellets and mixed pond sticks.
Description
Great value, carefully mixed, selection of food pellets and pond sticks of different colour and sizes.
Allows all fish, big and small, to join the table!
New tub size - perfect for a couple of months feeding.
Blend contains 30% protein, vitamins and spiralina to promote strong growth and healthy colourful fish.
Suitable for all fish types.
Features
SUPER value bucket, re-sealable lid keeps contents fresh.

Contains spiralina - rich in supplements.

Nutritional analysis: Protein 30%, Oil 5%, Fibre 2%, Ash 7.5%

Ingredients: Wheat, soya, maize, fishmeal, meat meal, alfalfa, poultry fat, minerals & vitamins, spiralina, EC permitted colourants.